Welcome to join MRS. BLUE membership program!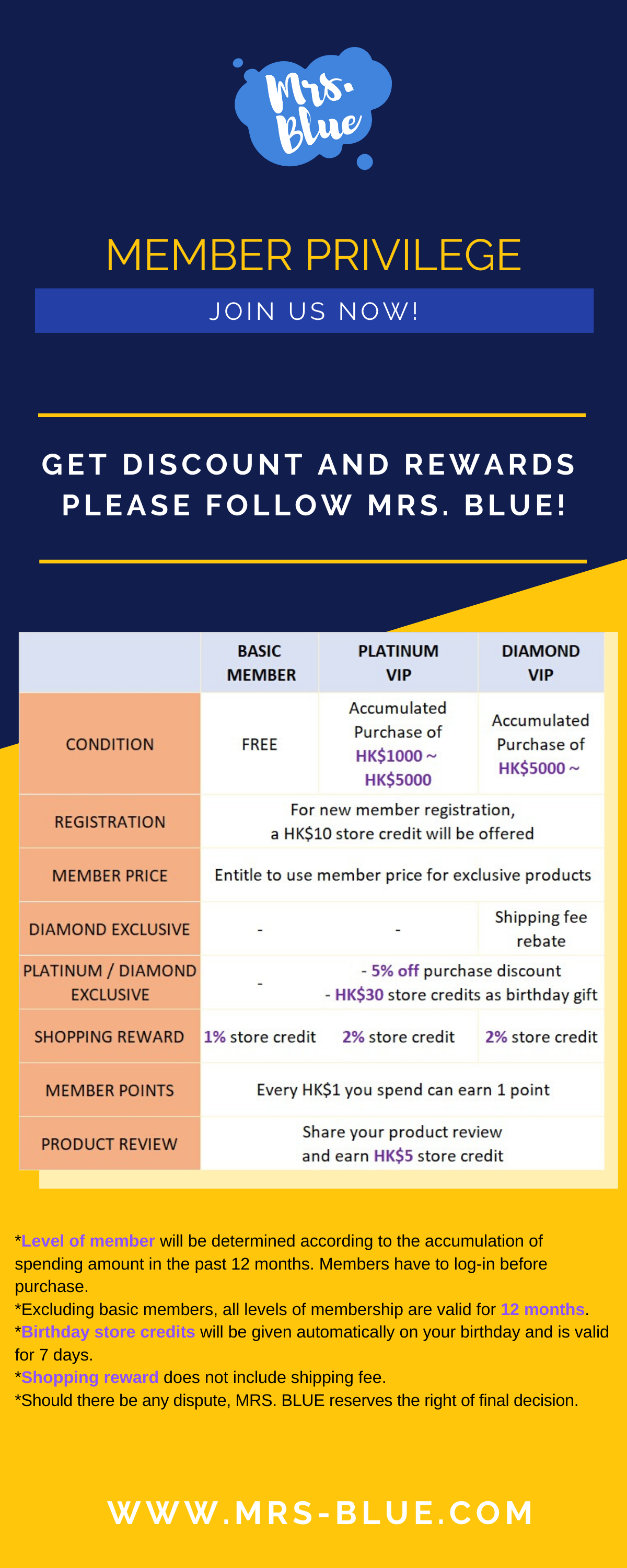 ❶ Gain HK$10 store credits for new registration (expire in 14 days).
❷ E
njoy membership price for selected products.
❸
Enjoy credit rewards:For every HK$1 spending, you will earn 1% store credits (expire in 365 days).
❹ Earn member points to redeem store credits.
Upgrade to be "PLATINUM VIP"
> Log-in and have an accumulative purchase
of HK$1,000 on MRS-BLUE.COM or at MRS. BLUE store (expire in 12 months).
❶ Entitled all basic member's privileges.
❷ Get 5% discount for website purchase.
❸
Birthday Treats: store credits of HK$30.
Upgrade to be "DIAMOND VIP"
❶ Entitled all platinum VIP's privileges.
❷ Enjoy shipping fee rebate (each order we will rebate store credits equivalent to 50% of the shipping fee you paid in your membership account).
> Auto renew
upon an accumulated net spending of HK$1,000 for PLATINUM and HK$5,000 for DIAMOND within 12 months.
※ Non-paying customers might be blacklisted.
※
All matters and disputes are subject to the final decision of MRS. BLUE.
In order to enhance our customers' shopping experience, we always strive to develop our product and service by listening to your valuable comments. From now on, after you purchased from MRS. BLUE, share your thoughts with us to gain
STORE CREDIT
rewards.
Content:
Review with text description +
try-on / product trial picture (if applicable)
You could choose either one of the following methods:
❶
Share it on your social media (Facebook / IG), set as public and tag our account (@mrsblue.hk)
❷
Post a review on our FB Page
www.facebook.com/mrsblue.hk/reviews
❸ 
Submit product review in your member account
Either one is entitled to have
HK$5
store credit reward
※ HK$1 Store Credit = HK$1, it can be used in your next purchase on MRS-BLUE.COM or at our store.
※ This event is limited to member only, please log-in as member before purchase.
※ If the product mentioned in the review is requested refund/exchang due to defects or other reasons, it is not valid for joining this reward.
※ Each order is limited to participate once in the product review reward. Thank you very much for all of your supporting!
MRS. BLUE membership program is governed by the following Terms and Conditions. By registering as MRS. BLUE member, you agree that you have read and accepted these Terms and Conditions, and you further agree to provide with us your personal data ("Personal Data", as defined in the Personal Data (Privacy) Ordinance (Cap.486) of Hong Kong), and agree that we may collect and use your Personal Data in accordance with our Privacy Policy Statement.
Registration for Membership
> Applying for MRS. BLUE basic membership is free.
> To ensure members receiving our promotions and offers, members may be requested to provide us with their complete and accurate personal data, including name, phone number, email address, birthday information and address.
> To the extent permitted by law, we shall not be liable for any claim, demand, liability or action resulting from customer/member's omission, neglect and/or failure to provide us with your updated information, or from the accuracy and completeness of those data.
> Customer who failed to log-in for any website purchase is considered as guest purchase and the corresponding spending will not be accumulated in the member account. Customers shall not be entitled to any form of compensation.
> By logging-in to purchase, every HK$1 dollar you spend is entitled to earn 1%~2% store credits that you can use in your next website purchase. (These credits will be expired in 365 days)
> Store credits will be updated automatically after each purchase.
> Store credits can only be used as cash dollars redemption for website/store purchase and cannot be redeemed for cash.
> Store credits can
only
be used if your order is above HK$150 in net, with a maximum of 10% of your order amount.
> Store credits are non-transferable and non-divisible.
> Any expired store credits shall be forfeited automatically and member shall not be entitled to any form of compensation.
> Updates of member benefits and promotions will be sent to members via email or Whatsapp. Members should provide valid email address and mobile phone number to avoid missing out on important notices.
> MRS. BLUE is not responsible for any case of undelivered email messages or notifications.
> MRS. BLUE is not responsible for any loss of shopping credits due to technological or system problems.
> MRS. BLUE reserves the right to change the Terms and Conditions without prior notice.
> Should there be any dispute, MRS. BLUE reserves the right of final decision.